Choose From Our Campsites for
Unique Camping Experiences
2022 Campsite Rates:
Campsite (Electricity and Water): $50
Campsite T11A (Electricity, Water, and Sewer): $56
Campsite (Electricity, Water, Sewer, 50 AMP): $58
**Camp 6 Nights, Get the 7th Night FREE
Extra Person at Initial Registration: $8
Off-Road Dumping: $10
Check-In: 3:00 PM Check-Out: 3:00 PM
One family per night: includes 2 adults and 3 dependent children, or a non-family group of up to 4
Early arrival constitutes an extra day.
No check-ins after 9:00 PM, please! Call ahead if arriving after 9:00 PM.
Specific campsites are not guaranteed. We reserve the right to substitute sites of equal hookup. We welcome specific site requests but have no guarantees during the busy season.
Children two years and under stay FREE.
One sleeping unit or tent per site.
Maximum 2 vehicles per site.
One person at the party must be 21 or older.
Any and all persons not listed on the registration form at the time of camper check-in will be charged a visitor fee at the gate or office.
Pets are not allowed to be left unattended.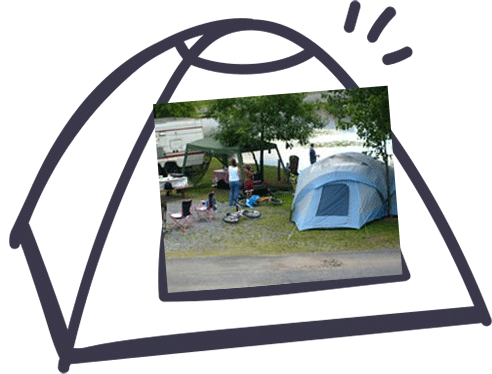 Deposits are due 7 days from the date reservation was made or management maintains the right to cancel the site.
Deposit Per Week: $150
Deposit Per Weekend: In Full
Deposit Per Holiday Weekend (3 Nights): In Full
July Through August, Halloween I, Halloween II, Halloween III, and special weekends: In Full
We accept all major credit cards
Service Charge
Insufficient Funds, etc. Per Check: $75.00
Cancellation Policy
14-Day Notice is required for a rain check or refund; $5.00 handling fee applies.
Last-minute cancellations, no-shows, late arrivals, early departures, inclement weather, or personal reasons will forfeit the deposit.
Visitor Policy
All visitors must register and pay upon arrival at the gate or office.
Day pass check-in: 10:00 AM. Check-out: 10:00 PM
Overnight pass checkout: 3:00 PM
Visitors may not enter the park after 9:00 PM
Visitor pets are not allowed.
Visitors day pass fee is $5.00.
Overnight visitors pass fee is $8.00.
Children 2 years and under are free.
Visitors are welcome to use all facilities.
Visitor fee is refunded if the stay is less than 1 hour.
No refunds for dancing or swimming.
Seasonal Camping
Enjoy the ease of keeping your trailer on site and forget about packing up, tearing down, making reservations, etc. Please request more information on becoming a seasonal camper at Mountain Springs Camping Resort!